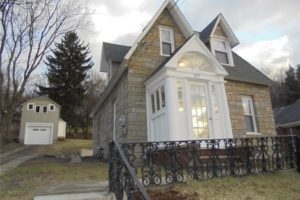 Have you looked around your home and realize that it needs a face-lift? There are always things here and there that we want to spruce up in our homes, and at times we can do it on our own. However, there are occasions when it is best to call in local home remodeling contractors like our team at Bullfrog Construction LLC. We help our clients from start to finish on all of their home renovation projects. Here are a few reasons why people remodel and what we accomplish for our clients.
Remodeling an Older Home Makes Sense
Whether your house is newer or older, we will do our best to achieve the look you desire. There are some beautiful older homes out there that have stood the test of time and have been through not only a lot of owners, but a lot of designs as well. It is amazing to take a walk through history when peeling back layers of design on an older home. Remodeling an older home and restoring it to not only its original beauty, but also keeping up with modern conveniences, is a massive project. Our team is well versed in restoring older homes and achieving many different looks whether it is the original design or even going ultra modern.
So Does Remodeling a Newer Home
Most homeowners don't consider home remodeling when it comes to a newer home but sometimes all it takes is a little change to make your home be exactly what you need. One example of this would be a sunroom. There are many homes out there that have screened in porches, and the owners love and use them. For some, however, this is a wasted space that is never used. Turn that room into a sunroom that still floods the home with light but in a much more comfortable and climate controlled way. Families for years will enjoy that room and it makes a small renovation completely worth it.
We Will Remodel Your Damaged Home
Lastly, another reason why clients choose to remodel is because of damage to their home. Some wish to restore their home to exactly as it was before, and others take this opportunity to change their home into another design that they have always wanted.
When you choose Bullfrog Construction, you choose the whole package for your home remodeling project. We will be there with you from the first idea until the last nail is in place. We will walk you through all of the inspections and make sure your home is up to code before the project is finished.
---
There is one room in a home that always draws a crowd: the kitchen. Family and friends gather around it while food is being made, and when it's time to sell, there isn't much that sells better than a fantastic kitchen. When it comes to kitchen renovation and custom kitchen cabinets in the Southern Tier, you will get the very best when you choose the professional team at Bullfrog Construction as your kitchen remodeling contractor. We have done kitchen-remodeling projects for many homeowners, and not only are they thrilled with the results, but their ideas usually leave us in awe, too. With an ample amount  of websites out there dedicated to showcasing beautiful homes and kitchens, there are many ideas and designs to choose from. Here are a few reasons why our clients have chosen to remodel their kitchen.
Kitchen Remodeling to Increase Functionality
The first reason usually is functionality. There is something lacking in their kitchen that makes it not run as well as it can. For some, it can be a design issue. The last owners could have been taller than you, and you are tired of using a stepladder to reach a plate. For others, they need their kitchen to be more handicap accessible. Another functionality issue could be outdated appliances. Usually a switch out of appliances can be easily done on your own unless the new appliances you purchased are not exactly like what was installed. Homeowners also want more space in their kitchen for their pots and pans and food commodities, so they ask us to build a custom kitchen.
Update Your Kitchen Design
Another reason why a client chooses to do a kitchen renovation project is to update the design. This can be a truly fun project because the homeowner gets to pick out all of the materials that they want, and their personality can really shine through.
When you choose to leave your kitchen-remodeling project in our hands, you will see that we at Bullfrog Construction are a one-stop shop.
---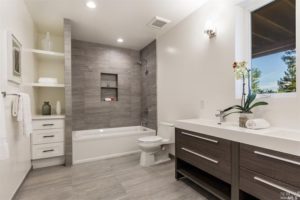 For families of all shapes and sizes, one of the most used rooms in our homes is our bathroom. Whether it is just a powder room or a full bath, there comes a time when these rooms need some love and updating. With bathroom remodeling projects, there are always a few  things you  can do on your own. However, for bigger projects, or just those projects that need that certain polish, this is where using the professional team of local bathroom remodelers at Bullfrog Construction would be best. We enjoy turning your bathroom into the spa that it should be. Here are a few reasons why some of our clients have called on us to help with their bathroom remodels.
Bathroom Remodeling to Update Design
One  reason why homeowners  choose to remodel their bathroom is for a design update. There are a lot of design concepts out there that are very dated. Some of the materials used years ago are not the best choice for your family anymore, plus there are lots of new materials that hold up better in a bathroom nowadays. New design can also help boost the usefulness of this room. Most families want to be able to store what they need and use in the bathroom in the actual room itself.
Maximize Your Bathroom Space
There are also folks who prefer something bigger than just the standard size bath tub or shower. We will be able to maximize the space you have in order to give you the bathroom you desire. As bathroom remodeling contractors, we will go through all of the options available to make your bathroom not only beautiful, but functional as well.
We at Bullfrog Construction can take care of everything when it comes to a bathroom remodeling project. We will take care of demolition all the way through the final coat of paint. It all starts with your idea. Bring your ideas to us and we will make them blossom before your eyes.